Description
Anne Trecker, MS, OTR/L

Moderated by Robyn Carreras, MS, OTR/L
Originally recorded June, 2023
LiveTalks are hour long discussions between an expert speaker and SPIRAL moderator.
SPIRAL Members: This LiveTalk is lesson 4 in the 2023 LiveTalk Series: Mentoring in the Art of Therapy course, available in your account.
Description: This Live Talk will explore the concept of being 'child-led' in Ayres Sensory Integration (ASI) and its significance in optimizing therapy outcomes. Being 'child-led' refers to a therapeutic approach that recognizes the child as an active participant in their own therapy, empowering them to take ownership of their sensory experiences and developmental progress. This talk will emphasize the therapist's role in following the child's lead and discuss the essential skills and qualities necessary for a child-led approach. Our speaker mentor will share insights on active listening, observation, flexibility and creativity, reflective practice and more. Attendees will gain a comprehensive understanding of the principles and practices associated with being 'child-led' in ASI. Time for question and answer will be provided.
Learning objectives: By the end of this LiveTalk participants will be able to:
Define the concept of being 'child-led' in Ayres Sensory Integration (ASI) and its significance in optimizing therapy outcomes.
Understand the principles and philosophy that underpin a child-led approach in ASI, including the alignment with client-centered care.
Explore the key elements of a child-led approach, such as collaborative goal setting, sensory-based activity choices, and following the child's lead during therapy sessions.
By the end of this series participants will be able to:
Describe what it means to be child-led.
Identify ways to establish safety and trust with clients using a sensory integration-based framework.
Define the 'just-right' challenge
Identify when a therapeutic activity requires modification.
Course Level: Introductory. There are no prerequisites for this course.
Suitable For: OT, PT, SLP, OTA, PTA, Educators, Parents
AOTA Areas: Occupational Therapy Service Delivery: Evaluation, Intervention and Outcomes. Foundational Knowledge: Human Body, Development, and Behavior.
Contact Hours: This conversations is worth 1 contact hour or 0.1 AOTA CEUs.  To earn contact hours or AOTA CEUs for each Live Talk, participants must attend or view the online session in its entirety (accessible via a Zoom link), and successfully complete the accompanying quiz.
About the Speaker:  Anne Trecker is a certified and licensed occupational therapist. She received a master's degree in occupational therapy from Boston University, and previously received an MFA in dance from the University of Illinois.  Most recently Anne was an occupational therapist and sensory integration specialist with the Boston Public Schools.  Prior to that position, she was a therapist, and then the clinical director of Occupational Therapy Associates-Watertown.  In these positions she worked with children with a wide range of disabilities, with special emphasis on children with autism. She has lectured on sensory integration theory and intervention throughout the U.S. and presents frequently for parent and teacher groups in the Boston area. In addition, she was the founding executive director of SPIRAL Foundation at OTA-Watertown.
Disclosure: No disclosures.
ADA/Section 504: If you require special accommodations, please contact the SPIRAL Foundation at admin@thespiralfoundation.org or (617) 969-4410 ext. 282.
Continuing Education: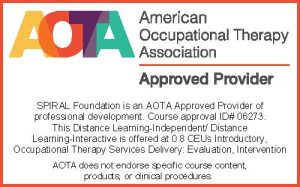 Occupational Therapy Practitioners/ Occupational Therapy Assistants: SPIRAL Foundation is an Approved Provider of Continuing Education for occupational therapists and occupational therapy assistants by the American Occupational Therapy Association. The assignment of AOTA CEUs does not imply endorsement of specific course content, products, or clinical procedures by AOTA.