Adult/Adolescent Sensory History
About the ASH:
The culmination of years of research and work, the Adult/Adolescent Sensory History, is designed as a self-report assessment of sensory and motor behaviors commonly observed in individuals with difficulties processing and integrating sensory information. The purpose of this assessment is to help identify adults and adolescents ages 13 to 95 who experience problems in sensory processing and integration as well as assist therapists in clinical reasoning when creating interventions for these individuals. Based on the conceptual model of sensory processing and sensory integration proposed by A. Jean Ayres, this measure is designed to identify difficulties in five key areas of functioning: Sensory Discrimination, Sensory Modulation, Postural-Ocular Skills, Praxis, and Social-Emotional Functioning. The complete Adult/Adolescent Sensory History demonstrates the following features:
A comprehensive standardized self-report questionnaire.
An alternative caregiver questionnaire for parents or other caregivers of adolescents or individuals with disabilities.
An abridged and simplified self-report supplement to the caregiver questionnaire for younger adolescents or individuals with disabilities who may not be able to complete the comprehensive self-report questionnaire.
A supplemental medical and developmental history form.
A comprehensive, standardized research-based scoring program for use with the self-report questionnaire or caregiver questionnaire.
Numerous standardized subscores to assist with identifying discrete patterns of dysfunction in processing and integrating sensory information, which allows for clinical utility in treatment planning.
1. User's Manual
A comprehensive manual detailing the use, administration and interpretation of the ASH. It includes instructions for use of the ASH Scoring Program© as well as case studies to aid in interpretation. The research base for the measure is provided in detail withing the manual.
2. Self-Report Questionnaire
The primary questionnaire for the measure. It is designed to be completed by the adult or adolescent themselves either independently or with assistance. Standard scores may be obtained for this part of the measure.
3. Caregiver Questionnaire
Designed as an alternative for the Self-Report Questionnaire, that can be completed by a parent, guardian or other caregiver of an adolescent or adult who is not able to complete the Self-Report Questionnaire themselves. Nearly identical to the Self-Report Questionnaire but, worded for caregiver responses. Standard scores may be obtained for this part of the measure.
Short Report:
For more information on the model of sensory integration used to develop the ASH, the development and standardization proceesses, reliability and validity research, helpful hints and resources check out the Adult/ Adolescent Sensory History (ASH): Short Report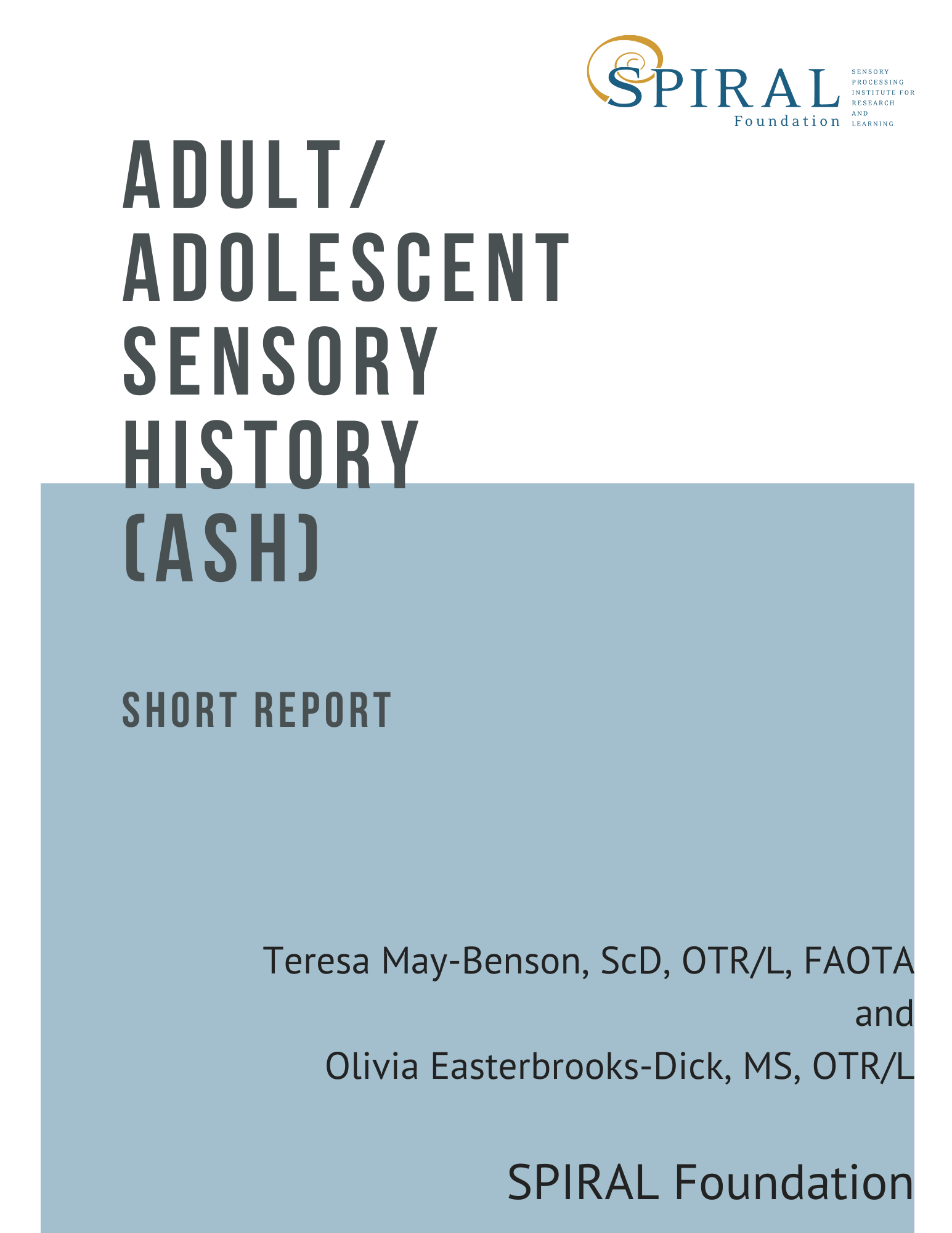 4. Abridged Self-Report Supplement
A complement to the Caregiver Questionnaire. The Self-Report Supplement consists of 63 items from the comprehensive Self Report Questionnaire. Specific items were chosen based on statistical analyses from several stages of research on the ASH and are worded at the 4th grade reading level with simplified responses. At this time standard scores may not be obtained for this part of the measure.
5. Medical History Supplement
Designed to obtain important background, medical and developmental information needed for a comprehensive sensory integration-based assessment. It includes information that may be of interest to a variety of professions such as birth and developmental history, medical information and the individual's areas of concern. Information obtained may be used to assist with treatment planning and clinical reasoning but is not entered into standardized testing.
6. Scoring Program
Designed to score the Self-Report and Caregiver Questionnaires. The test administrator enters demographic information as well as the question responses into the program. A one-page report form suitable to give to clients and for storage in client records is generated automatically. The report provides standard scores for all test subscores as well as score interpretations.
Excel based scoring – PC and Microsoft 2010 or higher required. Includes a standard license for installation on two machines and up to 30 users. PDF based scoring (English version only) – suitable for use on a PC or Mac with Adobe Reader (we do not recommend completing in a browser). User must use accompanying lookup tables to enter standard scores. Includes a standard license for use by up to 30 users. 
This product is a downloadable file.
Español: Europeo
(solo electrónica)