Description
Access to this course is restricted to 60 days from date of purchase. All parts of the course, including the exam, must be completed in that time in order to receive CEU credit. 
Presented by: Lori Goodrich, OTR/L, C/NDT, Teresa May-Benson, ScD, OTR/L, FAOTA

The FOCUS Program is presented in two courses, this course will present the core concepts of the intervention component of the FOCUS Program for Mealtime Success, for the assessment component click here. The FOCUS clinical reasoning process which guides the application of assessment information to intervention of feeding and mealtime problems in individuals with sensory processing challenges will be presented. Intervention and clinical reasoning for addressing various patterns of oral-motor and sensory processing dysfunction which impact feeding, eating and mealtime skills will be discussed. The six-phase FOCUS intervention model will be described and key decision making points will be presented. Intervention strategies for each phase of the model will be provided. The role of a multi-disciplinary team in addressing these difficulties will be discussed.
Learn more about The FOCUS Program here:
Learning Objectives
By the end of the course participants will be able to:
Implement a clinical reasoning framework for oral motor intervention
Identify the six intervention phases of the FOCUS intervention
Describe how the FOCUS program meets an individual client's sensory motor, oral, eating and mealtime needs.
Course Level: Advanced. There are no prerequisites for this course.
Suitable For: Occupational therapists, OT assistants
AOTA
Domain: Performance Skills
Process: Intervention
Contact Hours: This course is worth 6.5 contact hours or .65 AOTA CEUs.
Completion Requirements: To earn contact hours for this course participants must view the recorded course in its entirety, complete all home activities, and complete the accompanying online exam.
About the Speakers: Lori Goodrich, OTR/L, C/NDT, is the Assistant Clinical Director at OTA The Koomar Center in Newton, Massachusetts. She has extensive and specialized training related to sensory integration and oral motor theory, evaluation and treatment. For the past 12 years she has worked with clients from toddlers to young adults to both evaluate and treat the underlying sensory and motor foundations that result in restrictive eating. Ms. Goodrich focuses on educating clients and their families to support their understanding of the cause of eating based challenges, as well as providing home base tools and strategies to support mealtime performance across environments. Ms. Goodrich is dedicated to ongoing collaboration with other professionals, including psychologists and nutritionists, in order to provide integrative care as well as to provide education regarding the impact that sensory and motor challenges have on a client's food selectiveness.
Teresa A. May-Benson, ScD, OTR/L, FAOTA is the Executive Director of the Spiral Foundation as well as a practicing occupational therapist at OTA The Koomar Center. She is active in conducting research related to sensory integration through the Spiral Foundation's Sensory Processing Research Center and Laboratory. She is a well-known lecturer and researcher on sensory integration theory and intervention, has authored book chapters and articles on praxis and sensory integration, and completed her doctoral dissertation on ideational praxis. Dr. May-Benson received her bachelor's degree from Ohio State University and her master's degree from Boston University with a concentration in sensory integration and school system therapy. She was a Maternal and Child Health Fellow in the Doctoral Program in Therapeutic Studies at Boston University. She has received the Virginia Scardinia Award of Excellence from AOTA for her work in ideational praxis.
 ADA/Section 504: If you require special accommodations, please contact the Spiral Foundation at admin@thespiralfoundation.org or (617) 969 – 4410 ext. 231.
Continuing Education: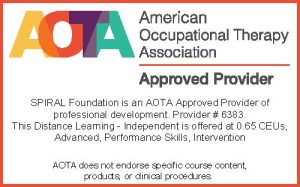 Occupational Therapy Practitioners/ Occupational Therapy Assistants:  The Spiral Foundation is an Approved Provider of Continuing Education for occupational therapists and occupational therapy assistants by the American Occupational Therapy Association.  The assignment of AOTA CEUs does not imply endorsement of specific course content, products, or clinical procedures by AOTA.