Description
Sarah Sawyer, MA, OTR/L

Moderated by Robyn Carreras, MS, OTR/L
Recorded May 2023
LiveTalks are hour long discussions between an expert speaker and SPIRAL moderator.
SPIRAL Members: This LiveTalk is lesson 3 in the 2023 LiveTalk Series: Mentoring in the Art of Therapy course, available in your account.
Description: Motivation, engagement, and fun are important components of any child-centered occupational therapy intervention. Research indicates that intervention is most successful when therapy activities are intrinsically motivating, and that when clients perceive therapy as fun, they are more likely to engage in therapy activities, practice new skills, and make progress towards their goals. In this LiveTalk, we will discuss the critical roles of motivation, engagement, and fun in Ayres Sensory Integration® (ASI), among features that distinguish this method from other sensorimotor approaches. Our speaker-mentor will discuss factors that influence client participation in ASI and share strategies to promote motivation, engagement, and fun, with an emphasis on the role of play and use of playfulness as a therapeutic tool. Time for question and answer will be provided.
Learning objectives: By the end of this LiveTalk participants will be able to:
Describe the relationship between motivation, engagement, and outcomes in occupational therapy intervention.
Understand the various factors that affect client participation in Ayres Sensory Integration®.
Identify playfulness strategies for promoting motivation, engagement, and fun in Ayres Sensory Integration®.
By the end of this series participants will be able to:
Describe what it means to be child-led.
Identify ways to establish safety and trust with clients using a sensory integration-based framework.
Define the 'just-right' challenge
Identify when a therapeutic activity requires modification.
Course Level: Introductory. There are no prerequisites for this course.
Suitable For: OT, PT, SLP, OTA, PTA, Educators, Parents
AOTA Areas: Occupational Therapy Service Delivery: Evaluation, Intervention and Outcomes. Foundational Knowledge: Human Body, Development, and Behavior.
Contact Hours: This conversations is worth 1 contact hour or 0.1 AOTA CEUs.  To earn contact hours or AOTA CEUs for each Live Talk, participants must attend or view the online session in its entirety (accessible via a Zoom link), and successfully complete the accompanying quiz.
About the Speaker: Sarah is President of the Board of the SPIRAL Foundation and Clinical Director at OTA The Koomar Center, one of the largest occupational therapy practices in the country and a model site for sensory integration. She has extensive clinical experience working with children and families. Sarah began her career in the United Kingdom working with children, adolescents and adults with Sensory Processing Dysfunction (SPD) across home, school and clinic-based settings. In 2003 Sarah was awarded the Elizabeth Casson Trust Scholarship from Oxford Brookes University, Oxford, UK, to attend Tufts University to complete her post-professional masters. Her thesis focused on therapists' clinical reasoning. Sarah has broad experience evaluating and treating individuals with SPD and has specialized training in listening therapies, feeding therapies and visual vestibular difficulties and DIR® Floortime Approach. Sarah has a particular interest in working with and supporting the families of neurodiverse individuals. Sarah is also passionate in supporting individuals and families that have experienced trauma and has collaborated with a number of colleagues to support the development of the role of OT in mental health and specifically the intersection of sensory processing, trauma and attachment. As well as overseeing the day-to-day running of the clinic, Sarah regularly shares her experiences through mentoring and presentations to educational facilities and other professionals broadening understanding of sensory processing and sensory integration therapy.
Disclosure: No disclosures.
ADA/Section 504: If you require special accommodations, please contact the SPIRAL Foundation at admin@thespiralfoundation.org or (617) 969-4410 ext. 282.
Continuing Education: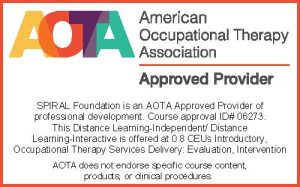 Occupational Therapy Practitioners/ Occupational Therapy Assistants: SPIRAL Foundation is an Approved Provider of Continuing Education for occupational therapists and occupational therapy assistants by the American Occupational Therapy Association. The assignment of AOTA CEUs does not imply endorsement of specific course content, products, or clinical procedures by AOTA.