Access to this course is restricted to 60 days from date of purchase. All parts of the course, including the exam, must be completed in that time in order to receive CEU credit. 

Presented in conjunction with OTA The Koomar Center
with Sarah Sawyer, MA, OTR/L and Teresa May-Benson, ScD, OTR/L, FAOTA
OTs working with children with sensory processing challenges are increasingly addressing co-morbid trauma and attachment concerns. Effective interventions are limited. This workshop will provide participants with the assessment and intervention knowledge necessary to implement the SAFE PLACE program, a multi-disciplinary sensory integration-based intervention for addressing attachment and complex trauma concerns in children with sensory processing dysfunction. The SAFE PLACE intervention program involves occupational therapists, mental health professionals, parent and child and encompasses concepts and philosophies from sensory integration, attachment, and complex developmental trauma theory. The SAFE PLACE model of care and core assessment strategies and intervention principles will be presented. Case studies will illustrate the components, implementation and outcomes of the intervention program. Participants will evaluate their own sensory processing style and reflect on how their sensory processing style facilitates or hinders interactions with their clients.
Outline:
Part 1: Introduction to SAFE PLACE (1.25 hrs)
Part 2: Assessment and Intervention Processes (1.5 hrs)
Part 3: Intervention (2 hrs)
Part 4: Fidelity Measure for SAFE PLACE (1.25 hrs)
Learning Objectives: By the end of the course participants will be able to:
Apply a theoretical model which integrates concepts of sensory integration, complex trauma and attachment.
2. Analyze the appropriateness of various sensory, motor, trauma and attachment assessments for use as part of a comprehensive evaluation for planning intervention with the SAFE PLACE program.
Design an intervention that incorporates all components of the SAFE PLACE program.
Course Level: Advanced. There are no prerequisites for this course.
Suitable For: Occupational therapists, OT assistants, Mental Health professionals
AOTA Areas: Occupational Therapy Service Delivery, Foundational Knowledge
Contact Hours: This course is worth 6.0 contact hours or 0.6 AOTA CEUs.
Completion Requirements: To earn contact hours for this course participants must view the recorded course in its entirety, complete all home activities, and complete the accompanying online exam.
About the Speakers: Sarah Sawyer, MA, OTR/L is the President, Co-Owner, and Clinical Director at OTA The Koomar Center. Sarah has broad experience evaluating and treating individuals with SPD and has specialized training in Listening Therapies, Trauma and Visual Vestibular difficulties. Sarah regularly trains and presents to educational facilities and other professionals broadening understanding of Sensory Processing Dysfunction and Sensory Integration Therapy.
Dr. Teresa May-Benson, ScD, OTR/L, FAOTA is an expert occupational therapist renowned for her clinical research, mentoring and education related to related to sensory integration theory and intervention, praxis, and social competency. She is currently the owner/CEO of TMB Education, LLC and serves as President and practicing occupational therapist at OTR, Inc, a private occupational therapy practice specializing in sensory integration and social competency for children and adults across the lifespan, located near Philadelphia, PA. Dr. May-Benson has a diverse background as a clinical practitioner, having worked in private and public-school settings as well as private practice. She has authored numerous book chapters and articles on praxis and sensory integration and completed her doctoral dissertation on ideational praxis. Teresa is an education and research faculty member at the SPIRAL Foundation. In her role of educator, she currently serves as adjunct faculty at Widener University and is past faculty at Tufts University and the University of Indianapolis. She has received the Virginia Scardinia Award of Excellence from AOTA for her work in ideational praxis and is the 2023 recipient of the AOTF A. Jean Ayres Award.
No disclosures.
ADA/Section 504: If you require special accommodations, please contact the Spiral Foundation at admin@thespiralfoundation.org or (617) 969 – 4410 ext. 282.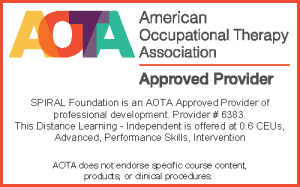 Occupational Therapy Practitioners/ Occupational Therapy Assistants: The Spiral Foundation is an Approved Provider of Continuing Education for occupational therapists and occupational therapy assistants by the American Occupational Therapy Association. The assignment of AOTA CEUs does not imply endorsement of specific course content, products, or clinical procedures by AOTA.