A conversation with Teresa May-Benson, ScD, OTR/L, FAOTA

Moderated by Robyn Carreras, MS, OTR/L
Thursday, December 14, 2023 7 – 8pm EST
Recording available by Dec 17, 2023
LiveTalks are hour long discussions between an expert speaker and SPIRAL moderator.
SPIRAL Members: This LiveTalk is lesson 7 in the 2023 LiveTalk Series: Mentoring in the Art of Therapy course, available in your account.
Description: Join us for an enlightening LiveTalk in the "Mentoring in the Art of Therapy" series, where we'll explore the intricate dance of facilitating skillful transitions and their crucial role in Ayres Sensory Integration. Transitioning between activities is more than a simple shift from one task to another; it's an art that requires a deep understanding of sensory needs, client responses, and the therapeutic environment. Key highlights include an in-depth exploration of transitioning between sensory activities with finesse for a seamless and purposeful flow. We'll delve into client-centered approaches, discovering how to customize transitions to individual sensory profiles, taking into account modulation, arousal states, and sensory preferences. Additionally, we'll examine the impact of the therapeutic environment on transitions, highlighting the role of sensory-rich spaces in facilitating smooth movement between activities. Ultimately, we'll emphasize how skillful transitions contribute to achieving therapeutic goals, promoting enhanced self-regulation, attention, and overall functional skills.
Learning objectives: By the end of this LiveTalk participants will be able to:
State the significance of skillful transitions in Ayres Sensory Integration, emphasizing their role in promoting optimal client engagement, self-regulation, and achievement of therapeutic goals.
Identify Client-Centered Strategies in Transitions, considering individual sensory profiles.
Explain define how sensory-rich environments influence successful transitions within Ayres Sensory Integration.
By the end of this series participants will be able to:
Describe what it means to be child-led.
Identify ways to establish safety and trust with clients using a sensory integration-based framework.
Define the 'just-right' challenge
Identify when a therapeutic activity requires modification.
Course Level: Introductory. There are no prerequisites for this course.
Suitable For: OT/OTA, PT/PTA, SLP, Educators, Psychologists, Parents
AOTA Areas: Occupational Therapy Service Delivery: Evaluation, Intervention and Outcomes. Foundational Knowledge: Human Body, Development, and Behavior.
Contact Hours: This conversations is worth 1 contact hour or 0.1 AOTA CEUs.  To earn contact hours or AOTA CEUs for each Live Talk, participants must attend or view the online session in its entirety (accessible via a Zoom link), and successfully complete the accompanying quiz.
About the Speaker: Dr. Teresa May-Benson, ScD, OTR/L, FAOTA is an expert occupational therapist renowned for her clinical research, mentoring and education related to related to sensory integration theory and intervention, praxis, and social competency. She is currently the owner/CEO of TMB Education, LLC and serves as President and practicing occupational therapist at OTR, Inc, a private occupational therapy practice specializing in sensory integration and social competency for children and adults across the lifespan, located near Philadelphia, PA. Dr. May-Benson has a diverse background as a clinical practitioner, having worked in private and public-school settings as well as private practice. She has authored numerous book chapters and articles on praxis and sensory integration and completed her doctoral dissertation on ideational praxis. Teresa is an education and research faculty member at the SPIRAL Foundation. In her role of educator, she currently serves as adjunct faculty at Widener University and is past faculty at Tufts University and the University of Indianapolis. She has received the Virginia Scardinia Award of Excellence from AOTA for her work in ideational praxis and is the 2023 recipient of the AOTF A. Jean Ayres Award.
Disclosure: No disclosures.
ADA/Section 504: If you require special accommodations, please contact the SPIRAL Foundation at admin@thespiralfoundation.org or (617) 969-4410 ext. 282.
Continuing Education: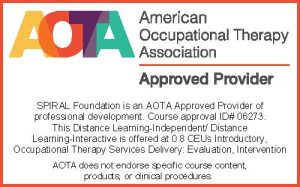 Occupational Therapy Practitioners/ Occupational Therapy Assistants: SPIRAL Foundation is an Approved Provider of Continuing Education for occupational therapists and occupational therapy assistants by the American Occupational Therapy Association. The assignment of AOTA CEUs does not imply endorsement of specific course content, products, or clinical procedures by AOTA.