Zoe Mailloux, OTD, OTR/L, FAOTA

Moderated by Robyn Carreras, MS, OTR/L
Recorded July 2023
LiveTalks are hour long discussions between an expert speaker and SPIRAL moderator.
SPIRAL Members: This LiveTalk is lesson 5 in the 2023 LiveTalk Series: Mentoring in the Art of Therapy course, available in your account.
Description: Join us for an engaging LiveTalk with Zoe Mailloux, OTD, OTR/L, FAOTA on "Creating the Just Right Challenge" in Ayres Sensory Integration. During this session, we will explore the concept of the just right challenge and its crucial role in effective Ayres SI intervention. Zoe Mailloux will share insights into the essential skills that therapists use to successfully create the just right challenge, including assessment, goal setting, communication, scaffolding and grading. Gain valuable insights into important considerations for therapists looking to achieve this delicate balance in therapeutic practice. This LiveTalk will provide you with a deeper understanding of the just right challenge and empower you to better support individuals on their sensory integration journey.
Learning objectives: By the end of this LiveTalk participants will be able to:
Define the concept of the "just right challenge" in Ayres sensory integration.
Articulate important considerations for therapists in achieving the just right challenge.
Describe the essential skills required to create the just right challenge in Ayres Sensory Integration
By the end of this series participants will be able to:
Describe what it means to be child-led.
Identify ways to establish safety and trust with clients using a sensory integration-based framework.
Define the 'just-right' challenge
Identify when a therapeutic activity requires modification.
Course Level: Introductory. There are no prerequisites for this course.
Suitable For: OT, PT, SLP, OTA, PTA, Educators, Psychologists, Parents
AOTA Areas: Occupational Therapy Service Delivery: Evaluation, Intervention and Outcomes. Foundational Knowledge: Human Body, Development, and Behavior.
Contact Hours: This conversations is worth 1 contact hour or 0.1 AOTA CEUs.  To earn contact hours or AOTA CEUs for each Live Talk, participants must attend or view the online session in its entirety (accessible via a Zoom link), and successfully complete the accompanying quiz.
About the Speaker: Zoe Mailloux, OTD, OTR/L, FAOTA is nationally and internationally recognized for her expertise in child development, sensory integration, autism, test development and occupational therapy. She is currently a test author and project director for the development and international normative data collection of the Evaluation in Ayres Sensory Integration (EASI).  Dr. Mailloux is also an adjunct associate professor at Thomas Jefferson University, Department of Occupational Therapy and a Co-Founder of the Collaborative for Leadership in Ayres Sensory Integration (CLASI). With more than 40 years of experience, Dr. Mailloux has been a champion for increasing understanding of individual differences, with the aim of enhancing participation in meaningful ways, for people of all abilities.
Disclosure: No disclosures.
ADA/Section 504: If you require special accommodations, please contact the SPIRAL Foundation at admin@thespiralfoundation.org or (617) 969-4410 ext. 282.
Continuing Education: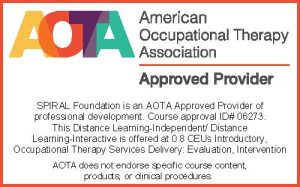 Occupational Therapy Practitioners/ Occupational Therapy Assistants: SPIRAL Foundation is an Approved Provider of Continuing Education for occupational therapists and occupational therapy assistants by the American Occupational Therapy Association. The assignment of AOTA CEUs does not imply endorsement of specific course content, products, or clinical procedures by AOTA.