Julie Robinson, OT

Moderated by Robyn Carreras, MS, OTR/L
Thursday, September 28, 2023 7 – 8pm EST
Recording available Oct 2, 2023
LiveTalks are hour long discussions between an expert speaker and SPIRAL moderator.
SPIRAL Members: This LiveTalk is lesson 6 in the 2023 LiveTalk Series: Mentoring in the Art of Therapy course, available in your account.
Description: Join mentor and master therapist, Julie Robinson, as we explore the intricate relationship between sensory integration and emotional regulation. This session will delve into the concept of co-regulation, highlighting its significance in supporting individuals facing sensory processing challenges.
Discover co-regulation as a dynamic process of interaction within Ayres Sensory Integration, where sensory experiences and emotional states converge. Gain a solid understanding of co-regulation as a catalyst for emotional well-being within this framework, focusing on the balance between sensory input, physiological responses, social connection, and emotional states. Don't miss this opportunity to deepen your insights into this therapeutic art! Time for question and answer will be provided.
Learning objectives: By the end of this LiveTalk participants will be able to:
Identify key components of co-regulation, emphasizing its role in supporting individuals with sensory processing challenges.
Describe the dynamic process of interaction and mutual influence involved in co-regulation, specifically within the context of Ayres Sensory Integration.
State the implications of co-regulation for emotional well-being within Ayres Sensory Integration.
By the end of this series participants will be able to:
Describe what it means to be child-led.
Identify ways to establish safety and trust with clients using a sensory integration-based framework.
Define the 'just-right' challenge
Identify when a therapeutic activity requires modification.
Course Level: Introductory. There are no prerequisites for this course.
Suitable For: OT/OTA, PT/PTA, SLP, Educators, Psychologists, Parents
AOTA Areas: Occupational Therapy Service Delivery: Evaluation, Intervention and Outcomes. Foundational Knowledge: Human Body, Development, and Behavior.
Contact Hours: This conversations is worth 1 contact hour or 0.1 AOTA CEUs.  To earn contact hours or AOTA CEUs for each Live Talk, participants must attend or view the online session in its entirety (accessible via a Zoom link), and successfully complete the accompanying quiz.
About the Speaker: Julie Robinson is an occupational therapist with over 30 years of experience as a clinician. The work Julie does is integral to human development, wellness and a solid family unit. She particularly enjoys supporting families through the process of adoption and in working with children who are victims of trauma. Julie has extensive experience working with children diagnosed with an Autism Spectrum Disorder (ASD), or who have learning or emotional disabilities. She provides services that address Sensory Processing Disorder (SPD) and self-regulation challenges, as well as development of motor and executive functioning skills.
Disclosure: No disclosures.
ADA/Section 504: If you require special accommodations, please contact the SPIRAL Foundation at admin@thespiralfoundation.org or (617) 969-4410 ext. 282.
Continuing Education: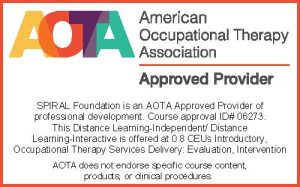 Occupational Therapy Practitioners/ Occupational Therapy Assistants: SPIRAL Foundation is an Approved Provider of Continuing Education for occupational therapists and occupational therapy assistants by the American Occupational Therapy Association. The assignment of AOTA CEUs does not imply endorsement of specific course content, products, or clinical procedures by AOTA.