Description
Dr. Teresa A. May-Benson, ScD, OTR/L, FAOTA and Wilma Dorman, OTR/L
Live Online Course: Sept 9th, 2023. 9 – 4:00 pm EST
Regular: $176 Members / $220 Non-Member
20% Early bird discount available until Aug 31,2023
Discounts automatically applied at checkout
Description: Children with Autism Spectrum Disorder, Attention Deficit Disorder, Intellectual Disabilities, Sensory Processing Challenges, histories of trauma and/or attachment concerns, often demonstrate challenges with emotional regulation and behavioral control that interfere with their ability to be socially competent. Social competency is essential for effective interactions, success in school, community engagement, and future roles in work and family. This course will examine the foundations of social competency with an emphasis on how sensory processing and motor performance problems impact the regulation of emotions and behavior necessary for the development of social competency. By understanding these connections, therapists can identify and address the underlying factors that contribute to weaknesses in social competency development and subsequent difficulties in occupational performance. The course provides strategies for assessment and intervention to support the development of social competency. Lecture and case studies will be presented. Adequate opportunities for question and answers and discussion will be provided.
This course's emphasis on practical strategies ensures that participants will gain applicable knowledge to enhance their interventions and outcomes in areas such as school, community, and future occupational roles.
Course Schedule:
9:00 – 10:30 Introduction to sensory processing, motor performance, emotional regulation, challenging behaviors and social competency
10:30 – 10:45 Break
10:45 – 12:00 Developing sensory processing and motor performance skills as a foundation for emotional, behavioral and social competency
12:00 – 12:30 Lunch
12:30 – 2:00 Addressing emotional regulation and behavioral challenges at home, school and the community
2:00 – 2:15 Break
2:15 – 4:00 Promoting social competency in children with sensory processing, emotional regulation and behavioral challenges across settings
Learning Objectives: By the end of this course the participant will be able to:
Describe the relationship of sensory processing and motor challenges to emotional regulation, difficult behaviors, and social competency.
Identify signs of sensory processing and motor performance, emotional regulation, behavioral and social competency challenges.
State strategies to address challenges in sensory processing and motor performance, emotional regulation, behavior, and social competency which may be used at home, school or the community.
Audience: Occupational Therapists, Physical Therapists, Speech and Language Therapists, Psychologists, Educators, Parents
Course Level: Introductory
AOTA Areas: Occupational Therapy Service Delivery, Foundational Knowledge.
Contact Hours: This course has been approved for 6.0 contact hours or 0.6 AOTA CEUs.
Completion Requirements: To earn contact hours or AOTA CEUs for this course participants must attend the live online session in its entirety (accessible via a Zoom link), and successfully complete the accompanying course quiz.
About the Speakers:
Dr. Teresa May-Benson, ScD, OTR/L, FAOTA is an expert occupational therapist renowned for her clinical research, mentoring and education related to related to sensory integration theory and intervention, praxis, and social competency. She is currently the owner/CEO of TMB Education, LLC and serves as President and practicing occupational therapist at OTR, Inc, a private occupational therapy practice specializing in sensory integration and social competency for children and adults across the lifespan, located near Philadelphia, PA. Dr. May-Benson has a diverse background as a clinical practitioner, having worked in private and public-school settings as well as private practice. She has authored numerous book chapters and articles on praxis and sensory integration and completed her doctoral dissertation on ideational praxis. Teresa is an education and research faculty member at the SPIRAL Foundation. In her role of educator, she currently serves as adjunct faculty at Widener University and is past faculty at Tufts University and the University of Indianapolis. She has received the Virginia Scardinia Award of Excellence from AOTA for her work in ideational praxis and is the 2023 recipient of the AOTF A. Jean Ayres Award.
Wilma Dorman, OTR/L is an occupational therapist who specializes in interventions promoting the development of social competence using a small group format. She graduated from the University of Pennsylvania and has received the master clinician award from both the Pennsylvania Occupational Therapy Association and Thomas Jefferson University School of Occupational Therapy. Wilma is trained in the RDI approach, and her interventions include sensory integration, social competence groups, and parent coaching using RDI to assist families and their children with autism spectrum disorder. She has been a long-time private practice owner, lecturer, and is co-author of the book Promoting Social Competence with Dr. Gordon Williamson.
Disclosure: Speakers will be compensated for this presentation
ADA/Section 504: If you require special accommodations, please contact courses@thespiralfoundation.org
Cancellation Policies: Available here
Continuing Education: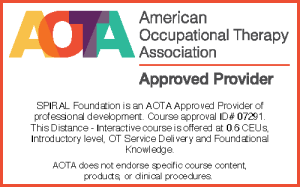 Occupational Therapy Practitioners/ Occupational Therapy Assistants: The Spiral Foundation is an Approved Provider of Continuing Education for occupational therapists and occupational therapy assistants by the American Occupational Therapy Association. The assignment of AOTA CEUs does not imply endorsement of specific course content, products, or clinical procedures by AOTA.