Dr. Teresa A. May-Benson, ScD, OTR/L, FAOTA
Live Online 12 Hour Course: June 16th, and June 23rd, 2023. 4 – 11:00 pm EST
$319 Members / $399 Non-Members
Description: This course will present an overview of the components of praxis with an emphasis on clinical assessment and intervention of practic problems in children using a sensory integration frame of reference. The impact of various practic problems on functional performance will be highlighted. A framework for observing, assessing, clinical reasoning, and identifying ideation, motor planning, sequencing, bilateral coordination and projected action sequence problems within a sensory integration treatment model will be presented. A clinical observation-based assessment will be presented and used to develop observation skills and clinical reasoning in identifying and treating praxis problems. A praxis screening tool will also be provided. Practical intervention strategies using both top-down and bottom up approaches will be highlighted through videotapes, case studies, and lecture formats. 
Course Schedule
Day One:  

 

4:00 – 5:30 Introduction and Clinical Reasoning for Praxis and Dyspraxia, Praxis in Normal Development 

5:30 – 5:45 Break 

5:45 – 7:15 Introduction to Top-Down Approaches and Cognitive Learning Theory, Brief Neurology of Praxis 

7:15 – 7:45 Break 

7:45 – 9:15 Models for Looking at Praxis: Applying a New Clinical Reasoning Model for Praxis   

9:15 – 9:30 Break 

9:30 – 11:00 New Model for Assessment and Clinical Reasoning for Intervention in Praxis, Praxis Model and Clinical Reasoning Lab 

Day Two:


4:00 – 5:30 Intervention Strategies for Arousal, Rhythmicity and Sequencing. Case Study and Treatment Planning 

5:30 – 5:45 Break 

5:45 – 7:15 Assessment and Intervention Strategies for Ideation  

7:15 – 7:45 Break 

7:45 – 9:15 Assessment and Intervention Strategies for Motor Planning 

9:15 – 9:30 Break 

9:30 – 11:00 Assessment and Intervention Strategies for Bilateral Coordination, Assessment and Intervention Strategies for Projected Action Sequences 
Learning Objectives: By the end of this course the participant will be able to:
Explain the underlying neural and sensory mechanisms of the various practic dysfunctions
Observe, assess and differentiate the range of practic dysfunctions from ideation to execution problems
Apply top-down and bottom up treatment principles appropriately to different problems using clinical reasoning
Relate clients' praxis problems to their difficulties with functional performance in daily activities
Outline an intervention plan for improving the occupational performance of a client with problems in praxis
Audience: OT, OTA, PT, PTA.
Course Level: Intermediate.
AOTA Areas: Occupational Therapy Service Delivery, Foundational Knowledge.
Contact Hours: This course is 12.0 contact hours or 1.2 AOTA CEUs.
Completion Requirements: To earn contact hours or AOTA CEUs for this course participants must attend the live online session in its entirety (accessible via a Zoom link), and successfully complete the accompanying course quiz.
About the Speaker: Dr. Teresa May-Benson, ScD, OTR/L, FAOTA is an expert occupational therapist renowned for her clinical research, mentoring and education related to related to sensory integration theory and intervention, praxis, and social competency. She is currently the owner/CEO of TMB Education, LLC and serves as President and practicing occupational therapist at OTR, Inc, a private occupational therapy practice specializing in sensory integration and social competency for children and adults across the lifespan, located near Philadelphia, PA. Dr. May-Benson has a diverse background as a clinical practitioner, having worked in private and public-school settings as well as private practice. She has authored numerous book chapters and articles on praxis and sensory integration and completed her doctoral dissertation on ideational praxis. Teresa is an education and research faculty member at the SPIRAL Foundation. In her role of educator, she currently serves as adjunct faculty at Widener University and is past faculty at Tufts University and the University of Indianapolis. She has received the Virginia Scardinia Award of Excellence from AOTA for her work in ideational praxis and is the 2023 recipient of the AOTF A. Jean Ayres Award.
Disclosure: Dr. May-Benson will be compensated for this presentation
ADA/Section 504: If you require special accommodations, please contact courses@thespiralfoundation.org
Cancellation Policies: Available here
Continuing Education: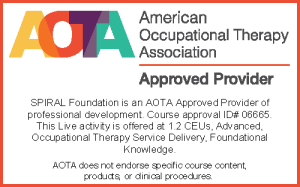 Occupational Therapy Practitioners/ Occupational Therapy Assistants: The Spiral Foundation is an Approved Provider of Continuing Education for occupational therapists and occupational therapy assistants by the American Occupational Therapy Association. The assignment of AOTA CEUs does not imply endorsement of specific course content, products, or clinical procedures by AOTA.